by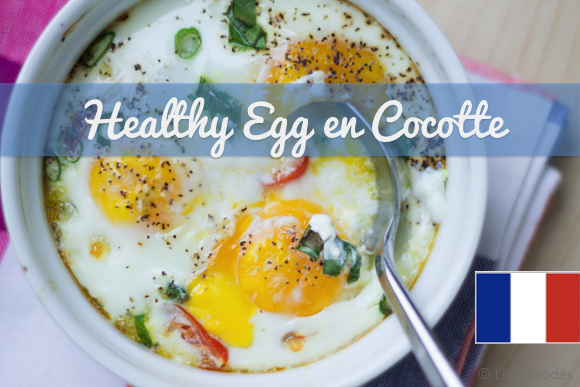 Miam-miam! It's time to honor the French cuisine, probably the fanciest culinary in the world. I don't know if you guys have been watching the World Cup, but last Sunday France started its campaign in Brazil with a 3-0 win over Honduras. Félicitations, vous avez gagné!! Anyways, we are here to talk about food, not soccer :).
Healthy Eggs en Cocotte Recipe  (or Oeufs en Cocotte in French) is the easiest recipe I prepared in the Wold Cup Recipes Festival. This dish is delicious, rich in protein, low-fat, low-carb, meatless and "husband-approved"! It's a perfect meal option for a lazy weeknight. Also, it can be served as a "fancy starter" when you have friends over for dinner.  Versatile, isn't it?
Cocotte means casserole in French. The recipe basically consists in baking eggs in a casserole. You can always make your own version … add ingredients, seasonings, etc. For instance, in this version I didn't use crème fraîche (which is delicious, but contains 40% butter fat), in order to reduce fat/calories. But if you don't care about fat and calories, go ahead and  add crème fraîche, bacon or brie cheese to your recipe … by the way, in this case, probably you are not a "Lite Goodies fan" too :P.
serves 1 portion
Healthy Eggs en Cocotte Recipe – Ingredients
4 organic eggs
1/2 cup sliced grape-tomatoes
1 tablespoon diced chives
1/2 tablespoon extra virgin olive oil
2 tablespoons fat-free cream cheese, cut in 1/4 inch slices
Salt and ground black pepper to taste
4 cups boiled water (for the bain marie)  – the quantity may change depending on the size of the baking dish.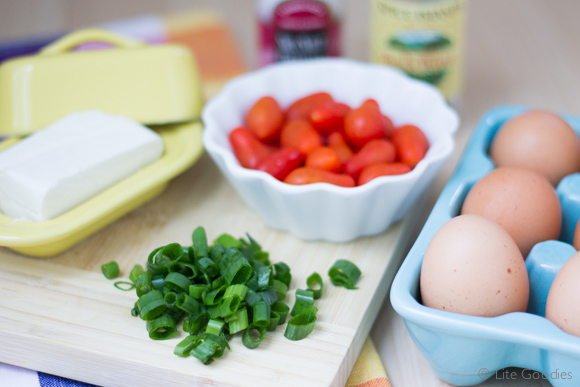 Healthy Eggs en Cocotte Recipe – How to Prepare
Preheat oven to 350F. Bring the water to a boil and set aside. Add olive oil to the bottom of an individual size cocotte (or ramekin) and cover with a layer of sliced grape-tomatoes and cream cheese.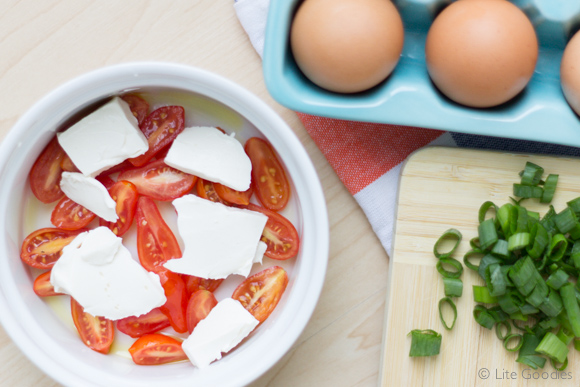 Add extra tomatoes, chives, salt and pepper.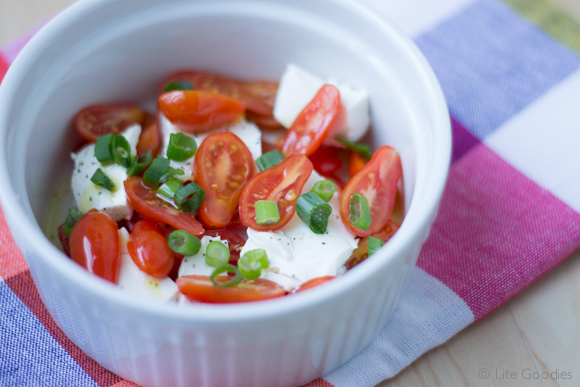 Then break 3 to 4 eggs (how ever many fit) into the cocotte without breaking the yolk. Top the eggs with some extra salt and pepper.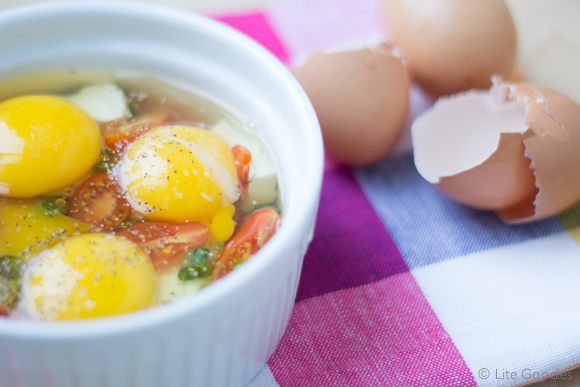 You're gonna cook the Egg en Cocotte in bain marie (like in the picture below). Find a baking dish with high sides that will hold your individual cocotte (I usually use a round cake pan or casserole dish). Put the cocotte inside this baking dish. Pour the boiling water into the larger baking dish and around the cocotte. The water should come about halfway up the sides of the cocotte.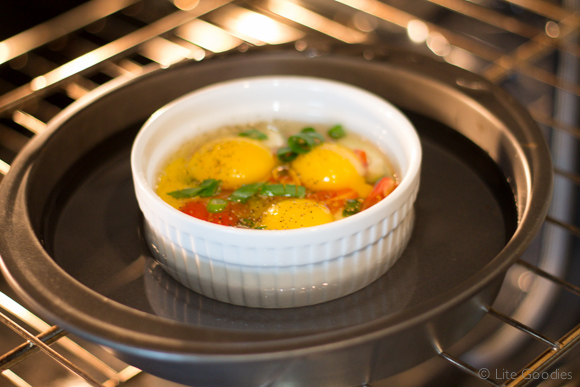 Bake for about  15 minutes, until the egg whites are set but the yolks are still loose.