by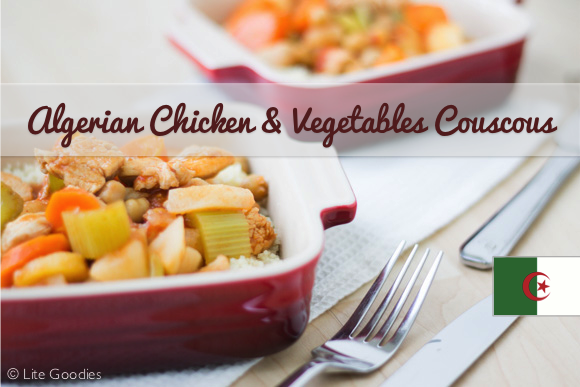 Last month Lite Goodies launched the "World Cup Recipes Festival". I've already posted 4 recipes (Brazil, Spain, Japan and Italy) … and in June I'll keep the festival running. This week the star is Algeria, with a delicious Algerian Chicken & Vegetables Couscous, or  الدجاج والخضروات الكسكس الجزائري in Arabic Language … beautiful, isn't it?
Algerian cuisine has the influence of Middle Eastern and Mediterranean culinary. Could this combination be more delicious? I love both Middle Eastern and Mediterranean cuisines … they are so rich in flavors and full of spices! Yummy, yummy, yummy!
One of the most traditional dishes from Algerian is the couscous: super easy to prepare and packaged with vegetables, protein and carbs. A complete meal! In my version I used chicken, but , if you prefer, you can use beef or lamb – the most comum meat in Algeria.
Important note: the seasoning makes all the difference… if you don't like to eat "super hot" food, use just a little bit of cayenne and black pepper … but don't be shy when adding cinnamon and paprika! :)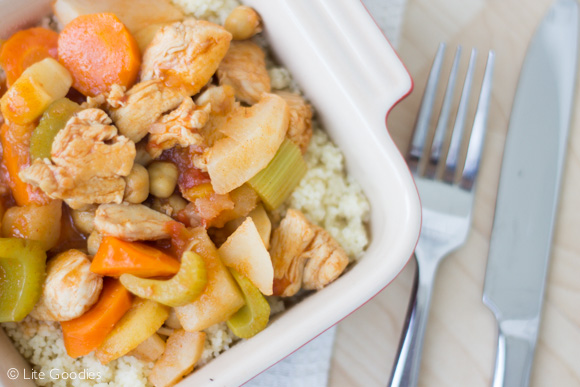 Algerian Chicken & Vegetables Couscous – Ingredients
2 cups cooked couscous (cook couscous according to instruction on package)
2 chicken breasts, cut into chunks
3 cups free-range/ low-sodium/ organic chicken broth
1 tablespoon olive oil
1 medium onion, chopped
1/4 cup tomato purée (organic and no salt added)
1 teaspoon sea salt (or to taste)
1/4 teaspoon black pepper (or to taste)
1/2 teaspoon of cinnamon (or to taste)
1/8 teaspoon cayenne pepper
1 teaspoon paprika
1/2 cup chickpeas
2 small carrots, chopped into chunks
2 stalks of celery, chopped into chunks
1 medium sized turnip, chopped into chunks
1 large parsnip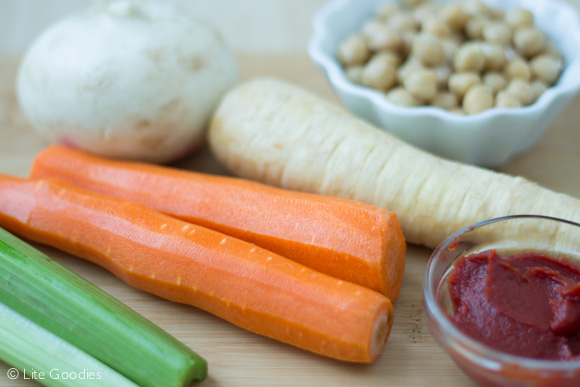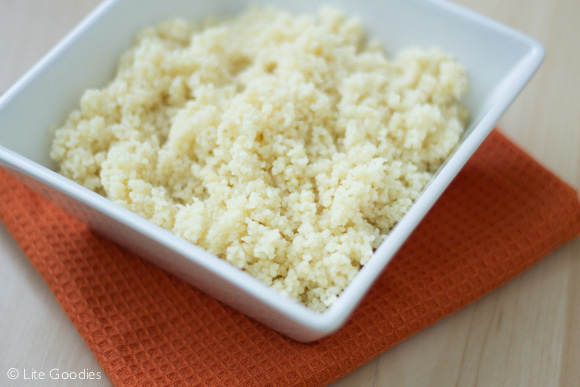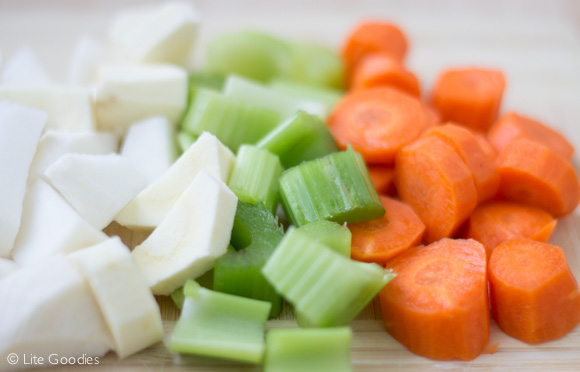 Algerian Chicken & Vegetables Couscous – How to Prepare
In a pan, heat olive oil and sauté onions for 5 minutes. Add chicken pieces and cook them over medium heat until turn golden brown, stirring, for about 10 minutes. Put vegetables, chicken broth and tomato puré into the pan and mix until all ingredients are combined. Add all seasonings (salt, black pepper, cayenne pepper, cinnamon and paprika), mix everything and cover the pan with the lid.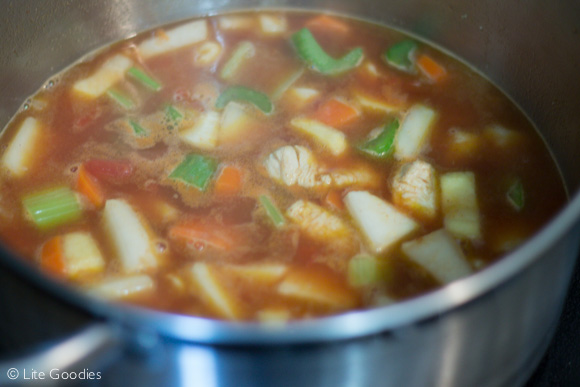 Cook over low heat for about 15 minutes, or until vegetables are tender and the sauce is thick. Tip: if the vegetables are ready, but the sauce is not thick enough, you can mix 1 tbsp corn starch + 1tbsp water in a cup and add this mixture to the sauce, stirring until the sauce incorporates and turns as thick as you want.
The last step is to add the chick peas, mix and try the sauce … add extra seasoning if necessary ;)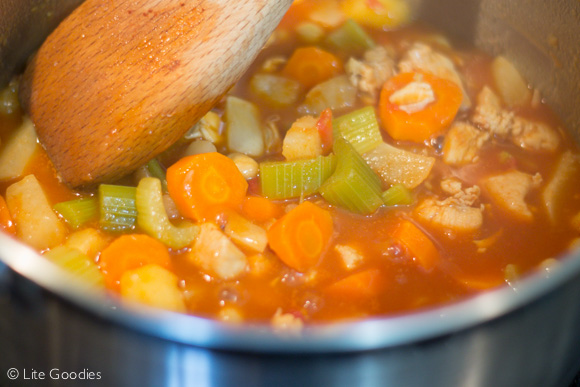 Cover the bottom of a serving dish with cooked couscous and put vegetables and chicken sauce on the top. It is suuuuuuper delicious and it smells really great!