by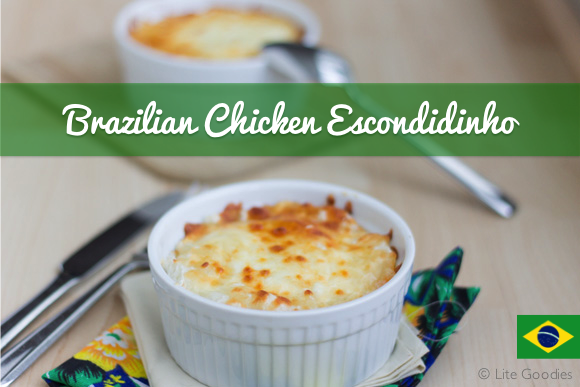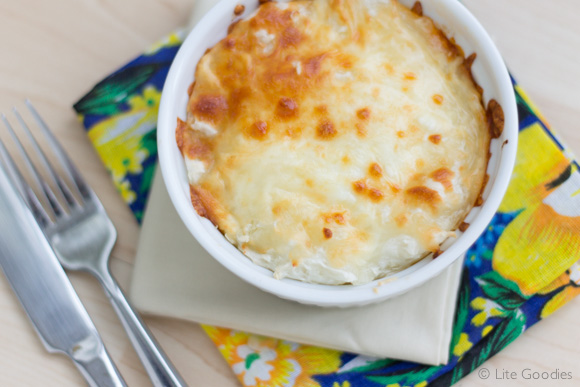 Hi everybody! As I promised in our Facebook page, this month Lite Goodies will host the "World Cup Recipes Festival": each week I'll publish a thematic recipe inspired in a country that is participating the World Cup. Let's celebrate soccer!!
This "World Cup Recipes Festival" is similar to something I used to do with my friends back in Brazil – during the World Cup each one of us hosted a thematic dinner, inspired in a different country cuisine. We've been doing it since 2002 and this is the first time I am not participating … so I decided to keep the tradition here on Lite Goodies.
I promise that I'll try to use simple and accessible ingredients in all recipes… and, of course, always create a lighter version.
I am from Brazil, so I think it is fair to start with a Brazilian recipe. Don't you think? You'll be amazed how delicious this Brazilian Chicken Escondidinho is. It is prepared using a super healthy ingredient: Cassava (also called Yucca Root). In Brazil cassava is very popular, it is rich in carbohydrates and fibers and it is gluten-free! Usually I buy frozen cassava at asian markets. If you prefer,  you can buy the fresh root in any grocery store.
Out of curiosity, "escondidinho" means "the little hidden" and the dish takes this name because the meat is hidden under the cassava puré. I tried to keep it as healthy as possible, that's why my version is made with chicken. In Brazil the most popular one is the "beef escondidinho", but they also serve chicken, shrimp and sausage versions.
Serve 2
Brazilian Chicken Escondidinho – Ingredients
For the chicken sauce
10 Oz boneless/ skinless organic chicken breasts – cut in 1 inch pieces
1/4 cup diced onion
1/2 tbsp coconut oil
Salt and black pepper to taste
1 tbsp organic tomato puré
2 cups organic and low-sodium chicken broth
1 cup reduced fat shredded mozzarella cheese
For the cassava puré
3 cups diced cassava (around 7 oz)
1/2 cup organic fat-free milk
1/2 tbsp coconut oil
Salt to taste
Water (the quantity varies depending on the size of your pan)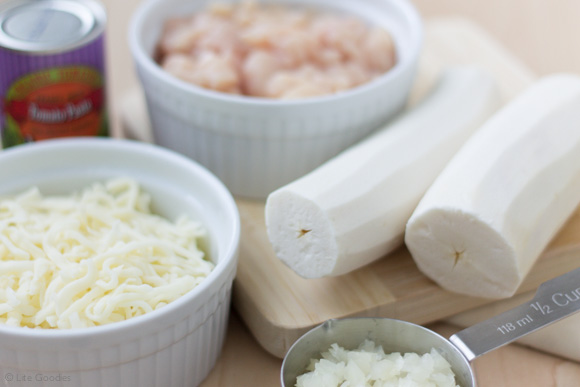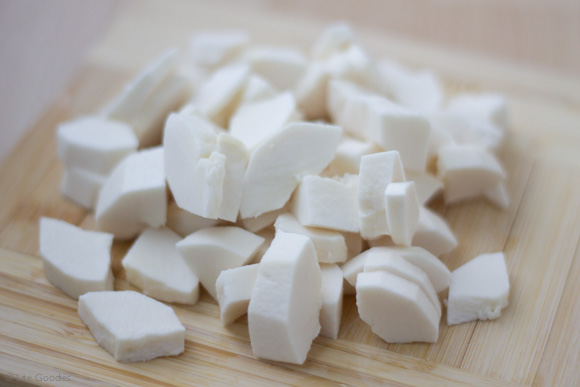 Brazilian Chicken Escondidinho – How to prepare
Put the diced cassava in a pot and cover it with boiling water. Simmer until very tender, about 20 minutes. Meanwhile, start preparing the chicken.
Season chicken with salt and pepper to taste. In a large sauté pan over medium-high heat, melt 1/2 tablespoon coconut oil and cook the onion for about 3 minutes. Add the diced chicken breast and cook for extra 10 minutes, or until the chicken pieces turn golden brown.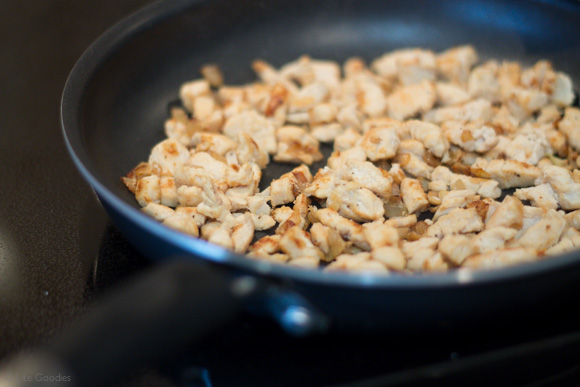 Add tomato puré and chicken broth. Mix until completely incorporated.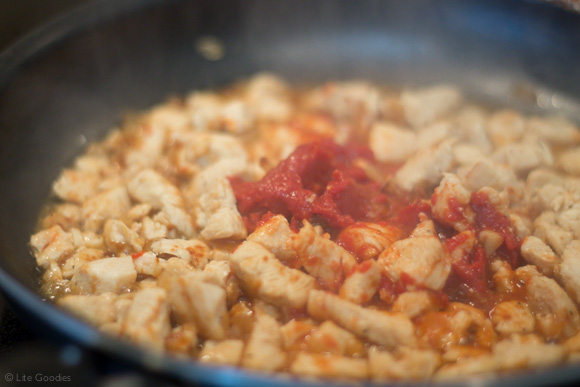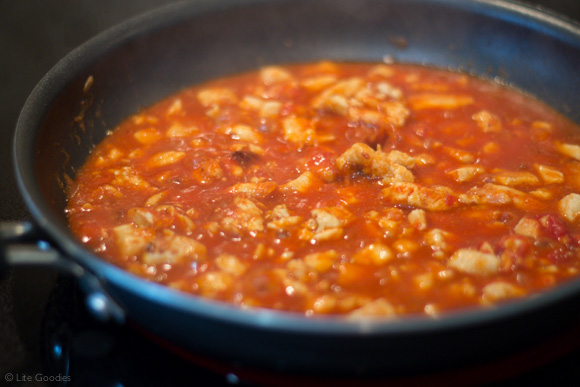 Turn the heat to low and let it cook for about 10 minutes, or until the sauce is thick. Set aside.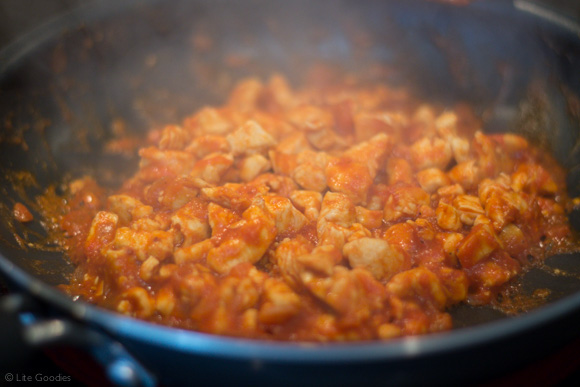 Now you are gonna prepare the cassava puré. After boiling for 20 minutes the cassava will be cooked and super tender. Drain it and in a bowl mash it using a ricer or a fork, until chunky.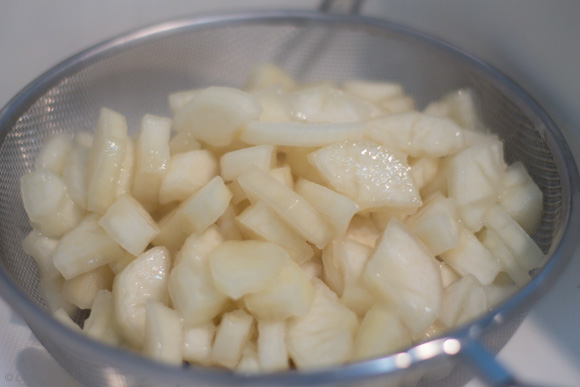 Mix together the mashed cassava, coconut oil and milk, until you get something like a thick dough (if needed you can add more milk). Season with salt to taste.
Cassava contains too much fibers, so it is not gonna be smooth as a potato puré, but after going to the oven it will have the perfect consistence.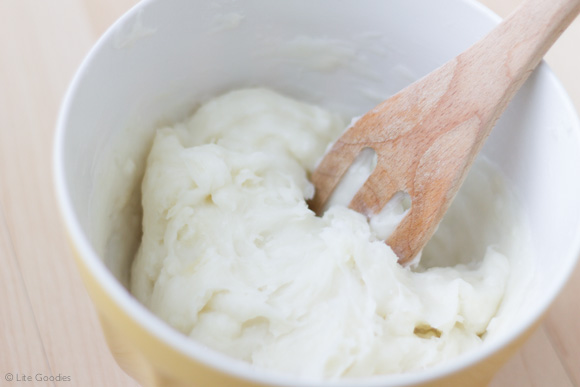 Now that chicken sauce and cassava puré are ready, it is time to assemble the Escondidinho. In the bottom of two small baking dishes (or a medium one) evenly spread the chicken sauce.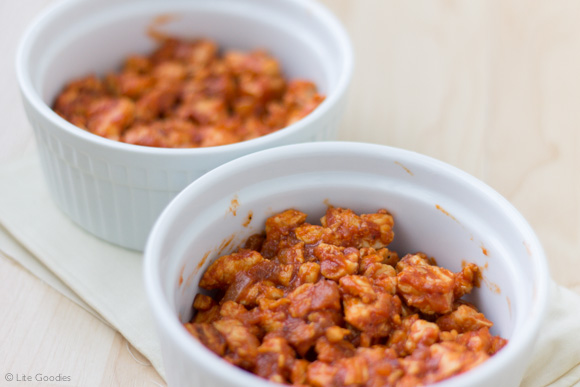 Cover it with shredded mozzarella.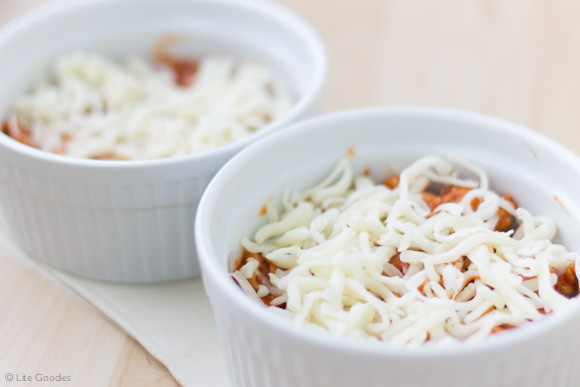 Add cassava puré, covering evenly. Top with mozzarella cheese and bake it under 350F preheated oven for 20 minutes, or until the cheese is melted.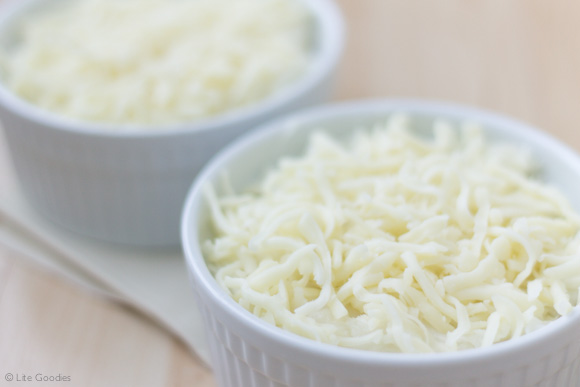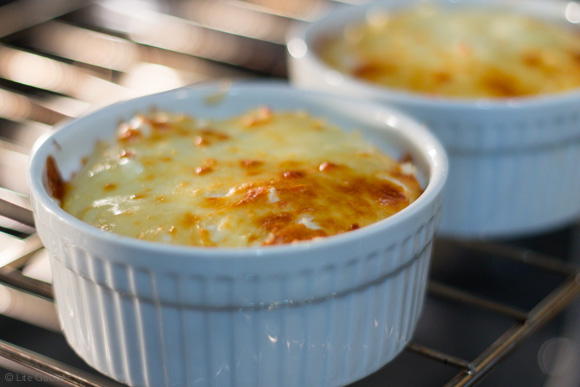 It's soooooo delicious! This is the dish I always prepare for my "no-Brazilian" friends. Everybody loves it!