by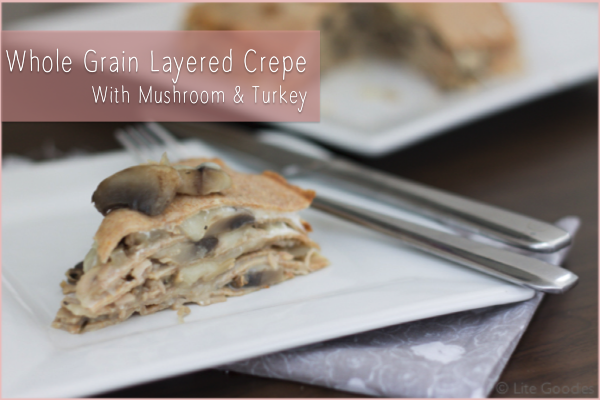 Hummmmm… this recipe is delicious! Do you guys wanna learn a little bit about Brazilian culture? Well …  I am calling this recipe  "layered crepe", but in Brazil people would call it "layered pancakes", because Brazilian pancakes are as thin as crepes  … did you know that? Also, in Brazil people do not eat pancakes for breakfast. Savory pancakes are eaten for lunch or dinner and sweet pancakes are eaten as dessert. Actually, I just realized this recipe would be delicious with honey, bananas and pecans :D.
The good news is that the "Whole Grain Layered Crepe with Mushroom & Turkey" is super healthy! Its is low-fat, it contains fibers and it is full of good carbs. Great, isn't it?
Serve 1  layered crepe (the portion serves 2 people)
Whole Grain Layered Crepe with Mushroom & Turkey – Ingredients
For the filling:
8 oz sliced white mushrooms
1 cup diced turkey breast (if you buy it at the deli department in the grocery store, try always to chose a Gluten Free, no MSG and 0% Trans Fat option).
1 cup diced onion
1 to 2 cups reduced fat shredded mozzarella cheese
1/4 cup fat-free cream cheese
1/4 cup low-sodium organic chicken broth
1/4 tbsp coconut oil
Salt and pepper to taste
For the crepes
1/2 cup whole grain flour
1/4 cup oat bran
1 cup fat-free milk (you can use the lactose-free version)
2 eggs
1/4 tsp black pepper
1/4 tsp salt
Coconut oil for greasing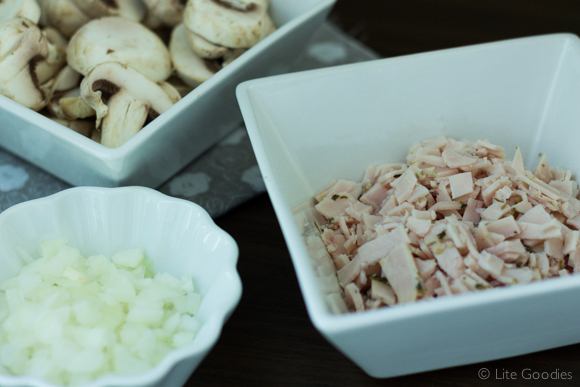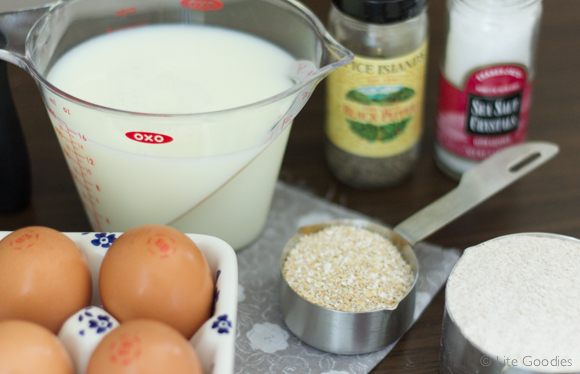 Whole Grain Layered Crepe with Mushroom & Turkey – How to Prepare
Start preparing the filling: In a large sauté pan over medium-low heat, melt 1/4 tablespoon coconut oil and cook the onion for about 3 minutes. Turn the heat to medium-high, add the diced turkey breast and cook for extra 3 minutes. Add the mushrooms, chicken broth and season with salt and pepper and sauté until mushrooms are soft. Take filling off the heat and set aside.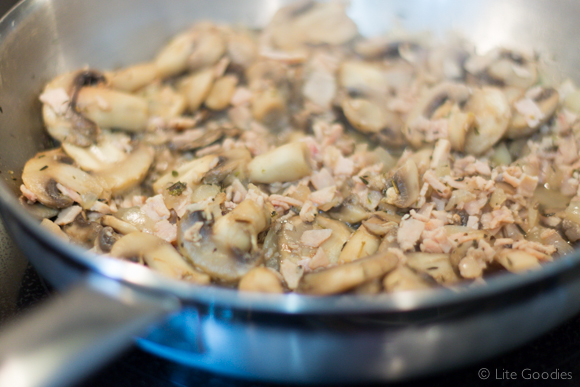 The crepes are not difficult to prepare … but they take a little bit time and effort :P. In a blender combine all of the ingredients (excepting the coconut oil for coating the pan) and pulse for 30 seconds.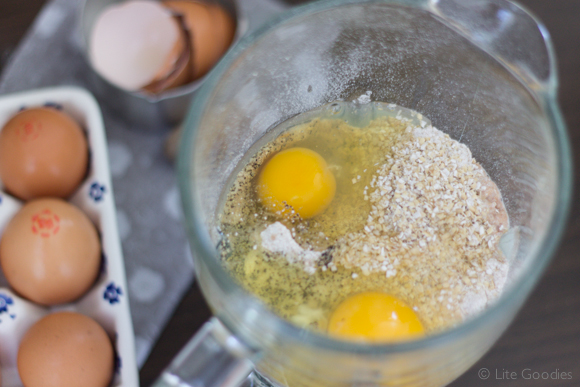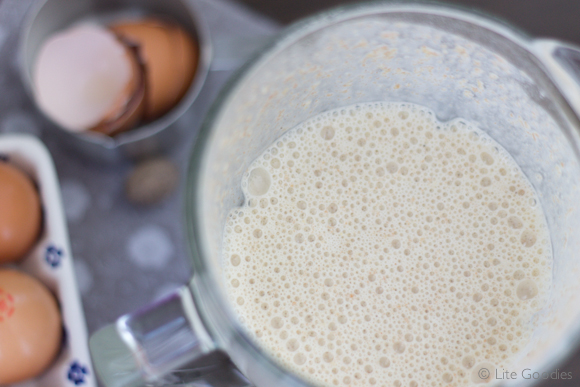 Heat a 10″ non-stick pan (use low heat). Add 1/8 tbp coconut oil to coat … use a paper towel to spread the oil over the pan and also to take off any excess (because I didn't put oil in the crepe mixture, I repeated this step for each crepe). Pour 1/4 cup batter into the center of the pan and swirl to spread evenly. Cook until the edges of the crepe start to curl and the top looks almost dry (about 1-2 minutes). Flip the crepe and continue to cook for about 30 seconds or until you have brown spots over the surface. Place the crepe in a plate and continue the process until all the batter is gone.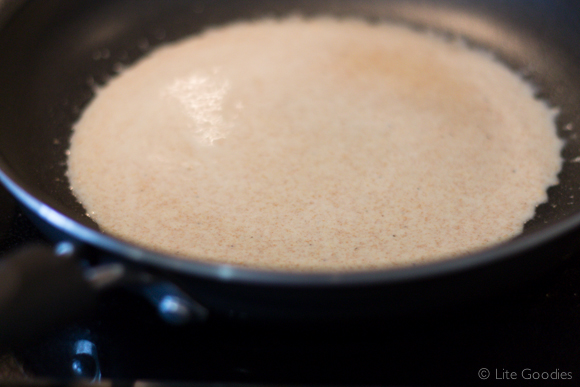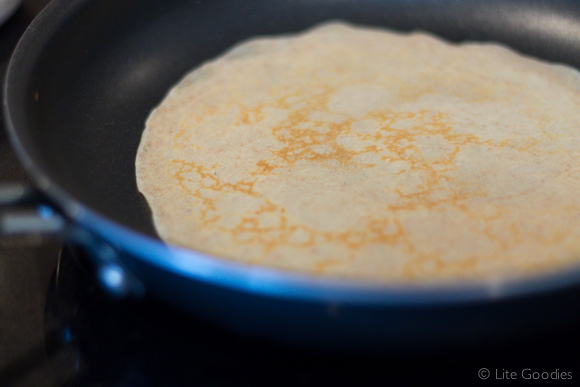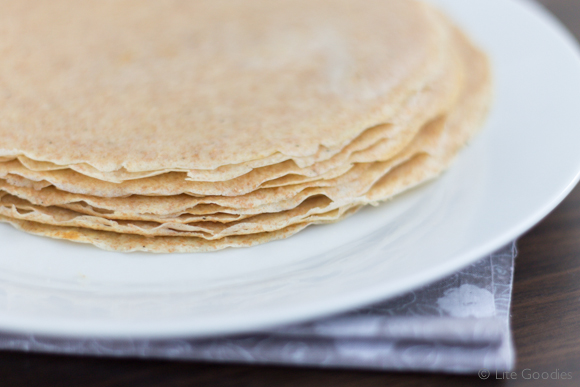 You will layer the crepes in a baking dish lined with parchment paper. Spread a little bit cream cheese over the first crepe, add the "mushroom & turkey" mixture and top with mozzarella cheese. Repeat this step until all the crepes are layered (around 8 layers). Garnish with mushrooms and cheese. Tip: do not put too much filling in each layer … otherwise it's gonna be too heavy.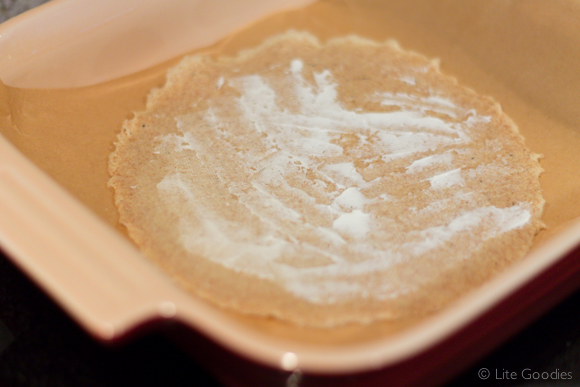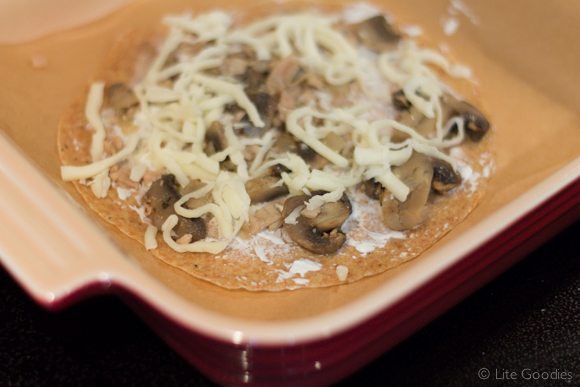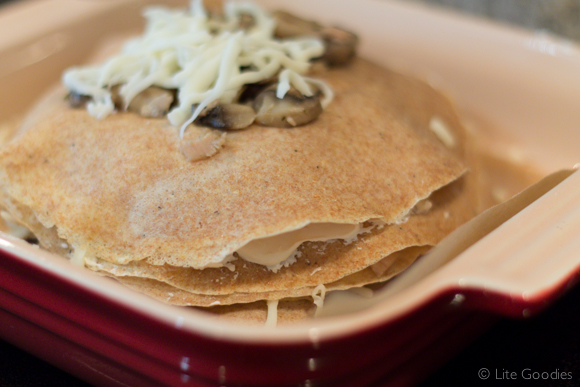 In a 350F preheated  oven bake the layered crepe for 15 minutes, or until the cheese is melted.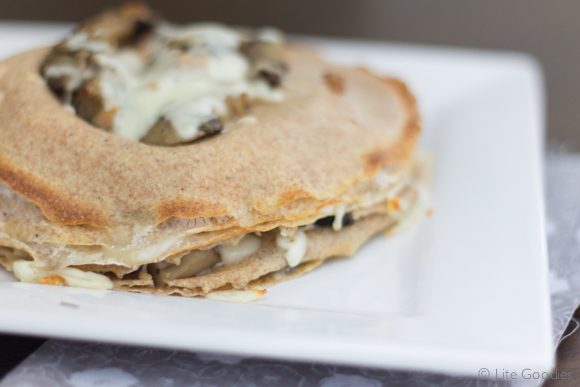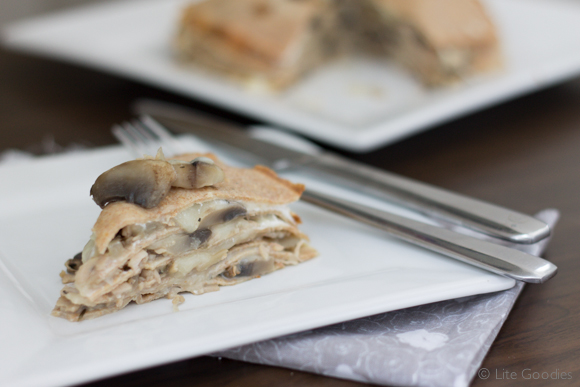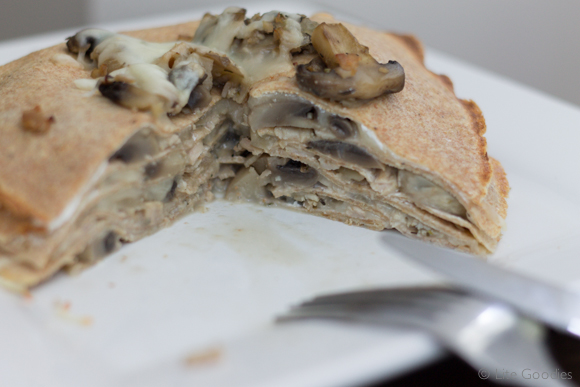 I love this recipe! You can totally create your own filling and I am pretty sure a sweet version would taste yummy!