by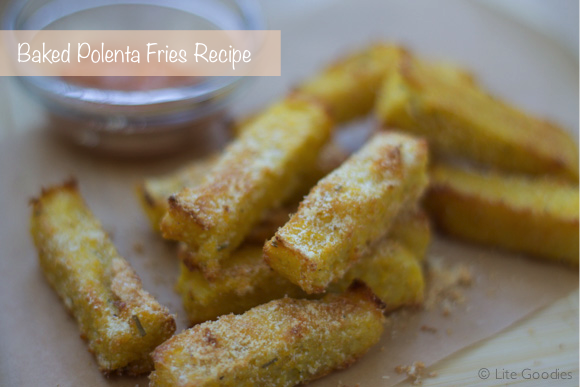 This Baked Polenta "Fries" Recipe is a perfect finger-food to eat during the NFL playoffs. Who doesn't crave junky snacks while watching football games? Now you have a healthy, crispy and delicious option! This recipe is low-fat and gluten-free. Perfect, isn't it? For those who doesn't know, polenta is considered a good carb source and it is high in dietary fiber, meaning that it is much better than simple carbs (like white rice, white pasta, white bread, etc.). I am pretty sure you're gonna love it!
Serve around 15 units
Baked Polenta Fries Recipe – Ingredients:
– 1/2 cup polenta or yellow cornmeal
– 1/4 cup low-fat parmesan cheese (for the polenta mixture)
– 1/4 cup low-fat parmesan cheese (for garnishing)
– 2 cups low-sodium chicken broth
– 2 cups water
– Salt to taste
– 1/4 teaspoon turmeric
– 1/4 teaspoon ground nutmeg
– 1 teaspoon rosemary
– 1/4 teaspoon black pepper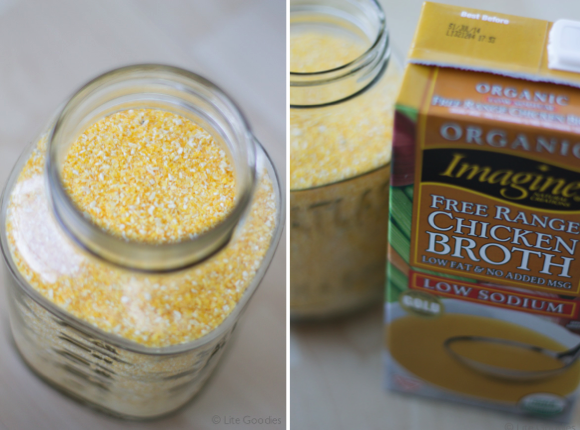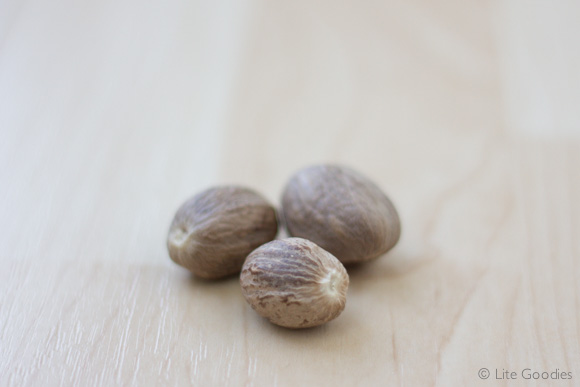 Baked Polenta Fries Recipe – How to Prepare:
Bring the water and chicken broth to a boil. Pour the polenta into the boiling water, whisking gently until polenta is thickened. Turn down the heat to low and continue whisking until the polenta has thickened enough that it doesn't settle back on the bottom of the pan when you stop stirring. Add parmesan cheese, turmeric, rosemary, nutmeg and black pepper . Cover the pan and continue cooking. Stir every 10 minutes or so, making sure to scrape the sides, bottom, and corners of the pan. Cook 30-40 minutes, until it is as thick as a puree.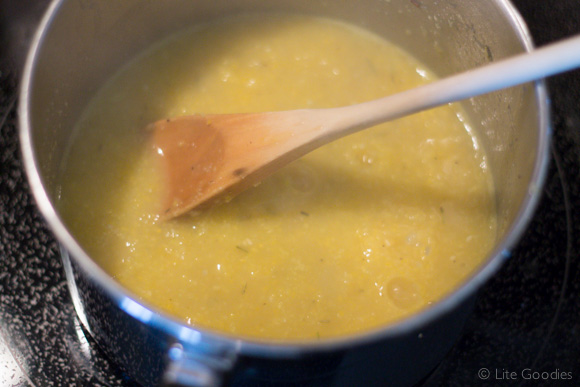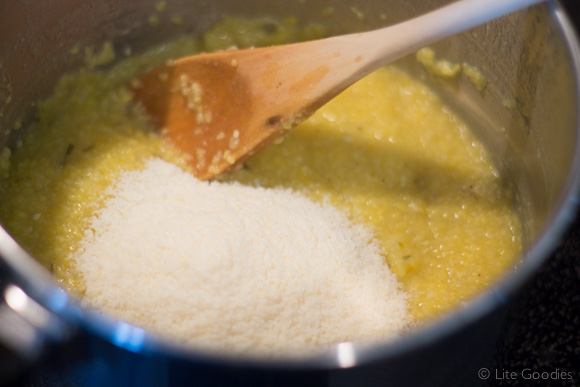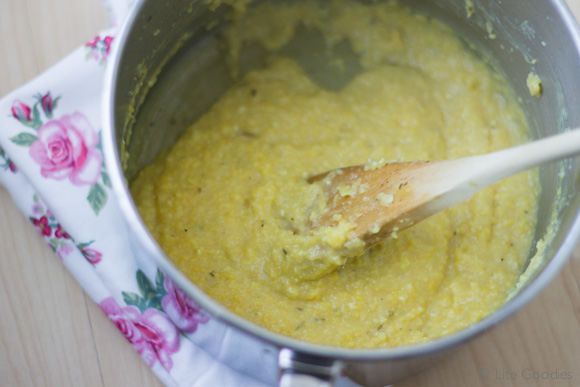 When ready, put the polenta into a square container and let it cool down in the fridge for about 1 hour.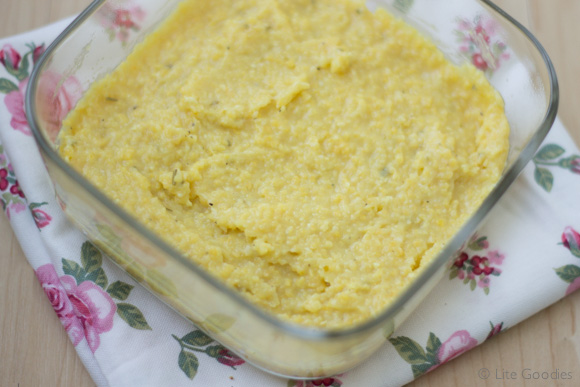 Preheat oven to 450F degrees. Cut the polenta in strips and place them in a baking dish lined with parchment paper.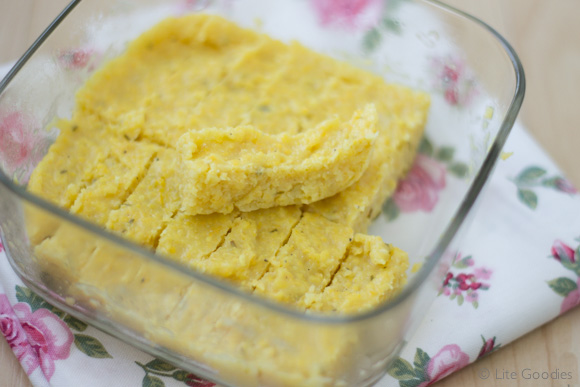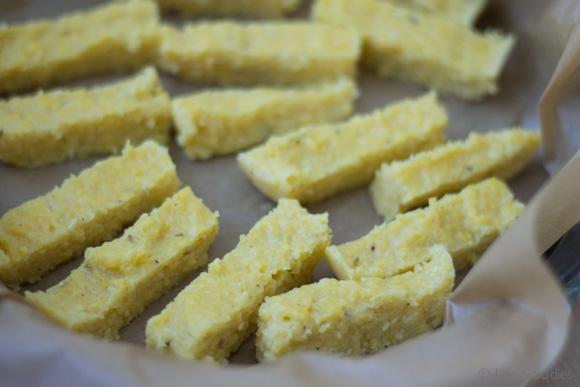 Bake "fries" for 25 minutes or more, until it starts turning crisp and golden-brown. Turn fries and add parmesan cheese – bake for extra 10-15 minutes.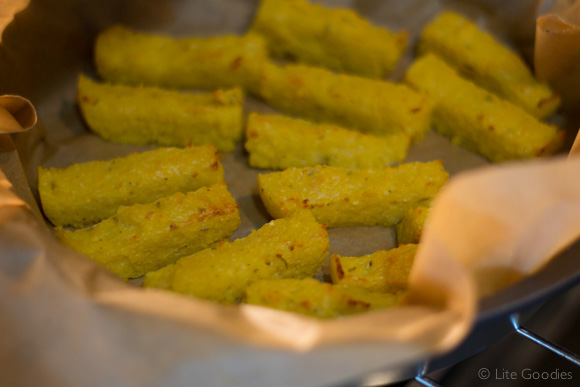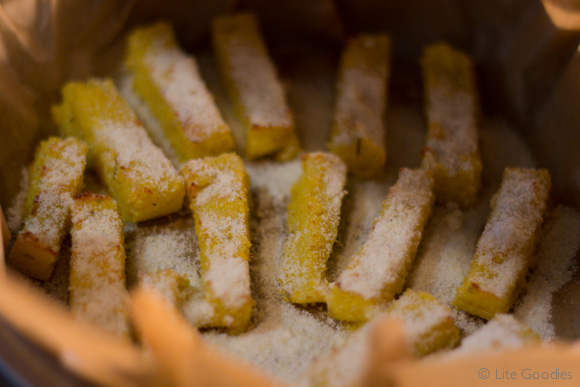 Serve with the deep you prefer. I prepared a quick deep and it was delicious: mix 1/4 cup light mayo + 1/4 cup Catchup and 1 tablespoon mustard. Easy and Yummy :D.