by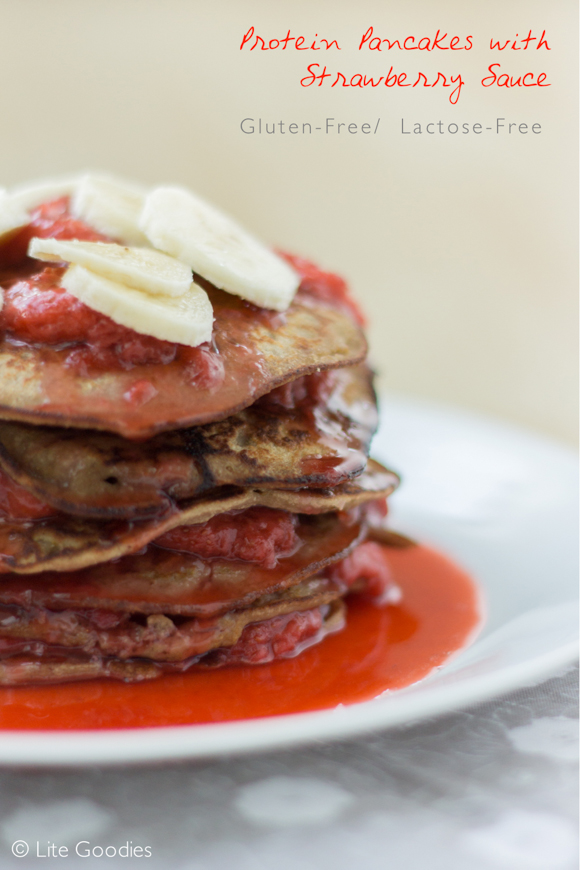 Protein Pancakes with Strawberry Sauce Recipe is perfect to eat as breakfast or dessert. It looks like a high calorie pancake, doesn't it? But  it is not! The main ingredients are coconut flour, almond milk, whey protein and banana … could it be healthier? Also it is gluten-free, lactose-free and fat-free.
I prepared my pancakes based on this recipe of Protein Pancakes with Banana and Dark Chocolate, from Miss Strong blog. This blog is pretty interesting for those women who need motivation to workout.
Leala, the blogger , made her pancakes with dark chocolate almond butter and walnuts. Considering that I do not workout as much as she does, I chose a lighter version … hehehhee. I substituted strawberry sauce for dark chocolate almond butter and walnuts. It was delicious!
serve 6 pancakes
Protein Pancakes with Strawberry Sauce Recipe – Ingredients:
For pancakes:
1/2 cup whey protein
1 cup coconut flour
1 cup and 1/2 Almond Milk
2 smashed bananas
2 egg whites
1/2 tablespoon cinnamon
1 teaspoon vanilla extract
For strawberry sauce:
2 cups (around 300g) fresh strawberries
1 tablespoon light brown sugar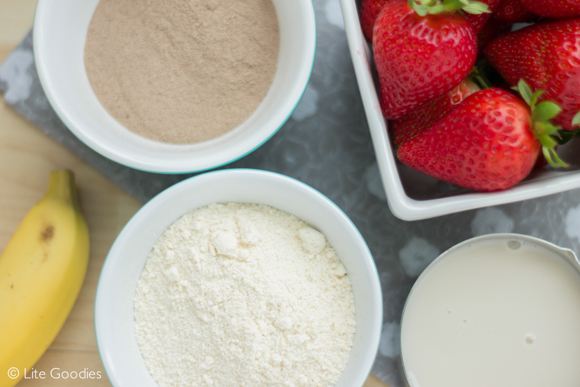 Protein Pancakes with Strawberry Sauce Recipe  – How to Prepare:
Start preparing the sauce. Wash strawberries and remove stems. Roughly chop them. In a saucepan combine strawberries and brown sugar. Cook over medium-high heat, stirring occasionally. Juice will begin to form. Mash a few strawberries to help produce the syrup. Cook until sauce thickens, about 15 minutes. Set aside.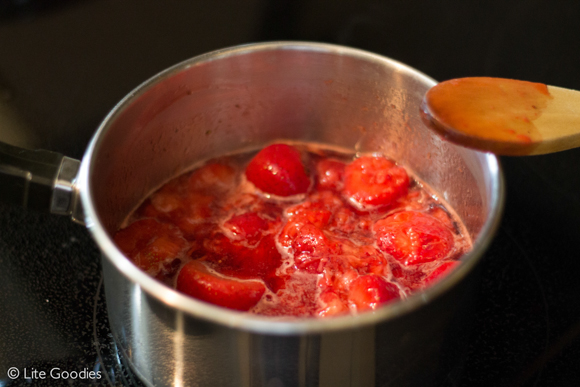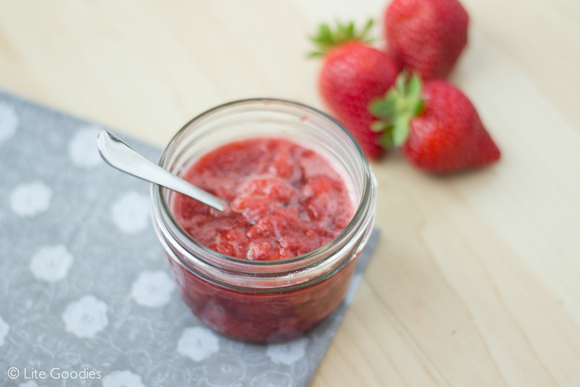 In a large mixing bowl, stir together all pancake ingredients. Mix it up  in a blender until perfectly smooth and even. Heat non-stick skillet or griddle over medium heat. Using a 1/4 cup measure, pour pancake batter onto hot griddle. When pancake is golden brown, flip to cook other side (around 3 minutes each side). Keep warm in oven heated to 275 degrees.
To serve, place one pancake on a plate, top with strawberry sauce and layer another pancake on top. Repeat process until all pancakes are used. Drizzle with strawberry sauce and top with banana slices.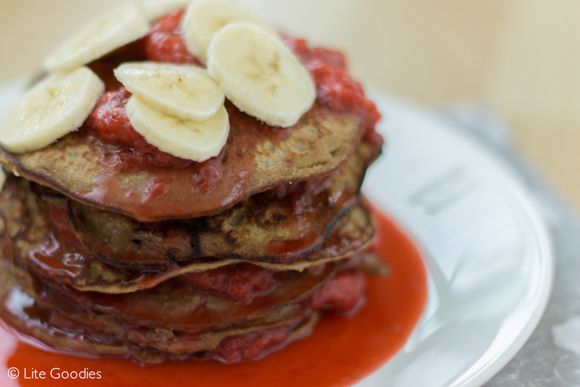 This pancake texture is completely different if compared to a regular pancake. Probably because this recipe substitutes all purpose flour with coconut flour. As Leala wrote in her blog, it will melt in your mouth!